TRichView+ScaleRichView
TRichView+ScaleRichView
Save up to 177 EUR
TRichView is a set of native Delphi components for displaying, editing and printing hypertext documents.
The components support various character attributes (fonts, subscripts/superscripts, colored text background, custom character stretching and spacing, custom drawn text).
Documents can contain:
tables,
pictures
images from imagelists,
footnotes and endnotes,
Delphi controls,
text boxes,
multilevel bullets and numbering,
items of other types.
Left, right, center, justified and distributed alignments of paragraphs, custom margins and indents, semitransparent backgrounds, styles, Unicode and bi-directional text, background images, print preview, export to HTML and DocX, RTF import and export, live spell, data-aware versions and more...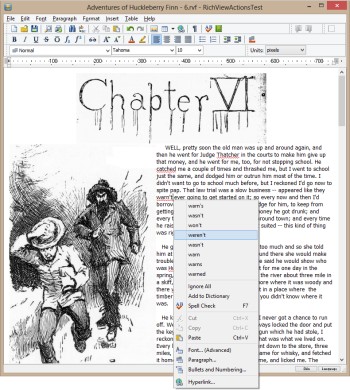 RichViewActions is a set of components and actions for creating a user interface for word processing applications (a free add-on to TRichView). RichViewActions include not only basic actions (like "make bold"), but special UI controls (for example, a combo box for applying styles to text and paragraphs) and ready-to-use dialogs covering the full range of word processor design (printing and preview, text and paragraph attributes, object properties, etc.)
RichViewActions are translated to about 30 languages, and offer original high-quality toolbar images.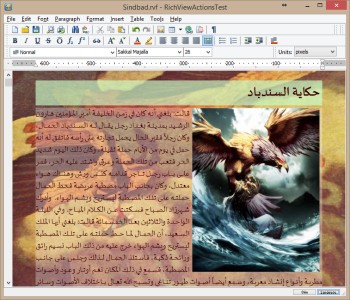 ScaleRichView is a set of components for WYSIWYG editing: you can edit documents in a page-view mode, so you can see pages as they will be printed. You can edit (in WYSIWYG mode) the main document, headers and footers (including special headers and footers for the first page and odd/even pages), footnotes and endnotes, text boxes.
ScaleRichView includes a special set of controls (SRVControls) designed specially for insertion in its documents.