Torry Star
Torry Star displays chosen product exclusively for certain time period.
If you would like your solution to be a Torry Star free of charge, please
contact us
.
Ranorex Studio - profesionální set nástrojů pro testování aplikací
Ranorex Studio je kompletní sada nástrojů pro testování desktopových, webových i mobilních aplikací. Sestavte automatické testy v prostředí Windows a následně je spouštějte lokálně či vzdáleně, na mobilních zařízeních s operačními systémy iOS či Android, nebo odpovídajících simulátorech či emulátorech. Testy můžete pro urychlení práce spouštět paralelně, například na prohlížečích Chrome, Firefox, Safari, Microsoft Edge a dalších. S nástrojem Ranorex Studio bude Vaše aplikace nejen kvalitně otestovaná, ale zákazníci ji budou mít k dispozici mnohem dříve!
Hlavní přednosti:
Spolehlivá identifikace objektů - Nástroj automaticky detekuje jednotlivé ovládací prvky uživatelského rozhraní testované aplikace.
Pokročilý záznam a editace akcí - Testovací scénáře lze vytvářet rychle, pohodlně a bez kódování.
Podpora širokého spektra technologií - Lze použít pro desktopové aplikace vytvořené v C#, Javě nebo Delphi, webové aplikace založené na HTML5, ale i pro nativní aplikace pro Android nebo iOS.
Profesionální výstupy - Průběh testování je monitorován a výsledky lze zpětně procházet a podrobně analyzovat.
Do konce června zvýhodněná cena!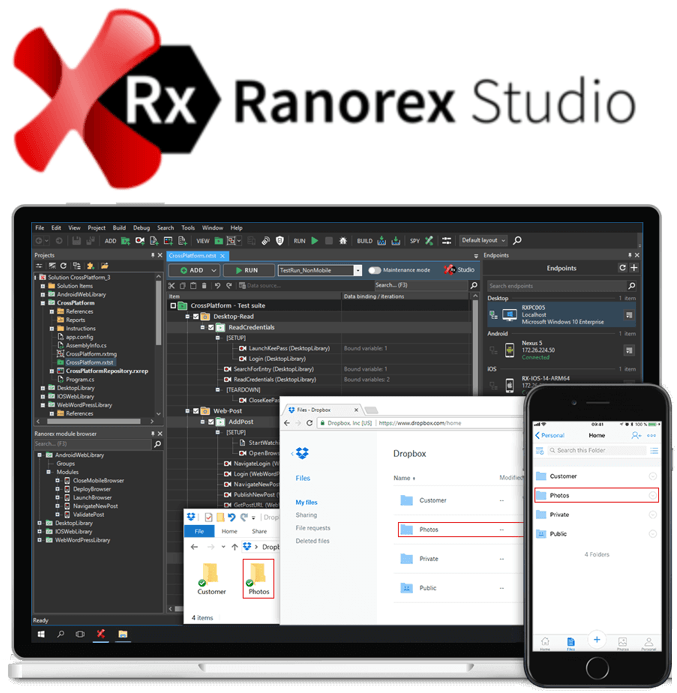 Ranorex Studio - professional toolbox for app testing
Ranorex Studio is a comprehesive set of tools for testing all types of apps - desktop, web or mobile. Create and modify automatic test in Windows environment and run them consequently in local or remote mode, on mobile devices with iOS or Andriod operating systems, or related simulators or emulators. In order to speed up your work, tests can be started and run parallelly, i.e. using various browsers like Chrome, Firefox, Safari, Microsoft Edge and many more. With Ranorex Studio tool, your app will be not only finely tested but it will be available for your customers much sooner!
Main benefits:
Reliable objects identification - Ranorex Studio automatically detects particular UI controls of concerned application
Advanced recording and editing of the actions - Scenarios for testing can be created rapidly, comfortably and without writing a line of code
Support of wide range of technologies - Ranorex can be used for desktop apps developped in C#, Java or Delphi, HTML5-base web apps, but even for native Android or iOS apps too
Professional outputs - progress of testing is monitored and results can be skimmed over retrospectively or analyzed in every particular
Discounted price till the end of June!
---
More interesting links and pages
---
---
Scrummaster and Agile trainings
---
---
Check the best online casinos in UK
---
What is control panel?
---
China Wholesale Suppliers Directory
---
---
---
---
---
---
Try out new casino sites at SmartphoneCasinos.co.uk
---
Discover UK licensed casino sites at Casinopilot
---