Torry Star
Torry Star displays chosen product exclusively for certain time period.
If you would like your solution to be a Torry Star, please
contact us
.
FireBird Database Backup is simple but powerful tool for backup of FireBird databases on various servers.
Introduction
Backup of commonly used database is an important task for data security. Similarly to planning backups of disks, directories or whole computers, regularly made database backups are very important as well. Unlike common files (documents, pictures etc.) database files of relational databases (FireBird, Oracle, Microsoft SQL Server) cannot be processed directly because of transaction management. Better result in case of direct copying database files is incomplete backup, the worse one leads to corruption of database file. There is command-line backup utility GBAK.EXE that can be used for processing backups. However, user interface of this programme is practically missing, nevertheless its using is only the right way to obtain backups in proper format. Because of lack of suitable up-to-date backup solution on the market, YAMACO Software company decided to develop easy but comfortable application for all FireBird users.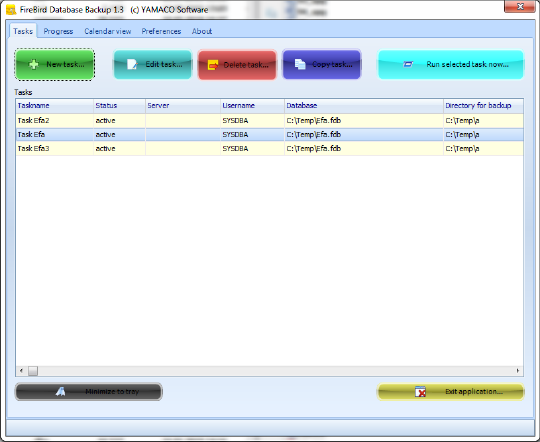 Main Features
unlimited number of databases for backup
backup for local and/or remote databases
unlimited number of different servers
backup of databases on Windows and Linux servers
options for setting backup time including choosing particular days
support for common backup options (via GBAK)
option for managing multiple backups for one database
logging every backup
optional ZIP compression of backups
optional transfer of backups to FTP server(s)
graphic calendar of processed backup tasks
running as an application or as a service
configuration tool for setting a service
automatic restart of backup service after unexpected termination
automatic web update of product
detailed user guide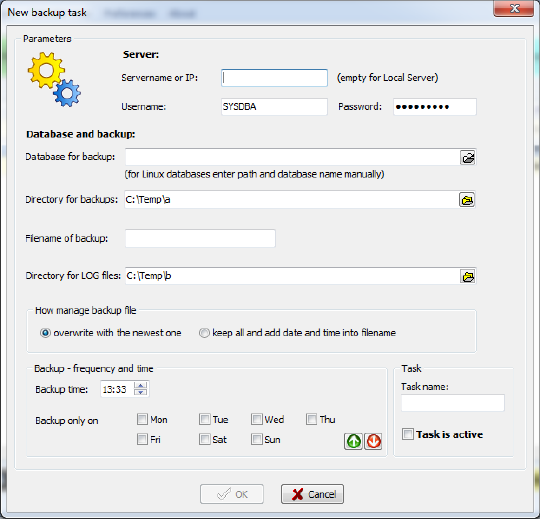 Lifetime license costs only USD 40.
We provide discounts from 2 licenses:
2 licenses - USD 70
5 licenses - USD 130
10 licenses - USD 200
20 licenses - USD 300
The image below shows how backup results are displayed in the graphic mode.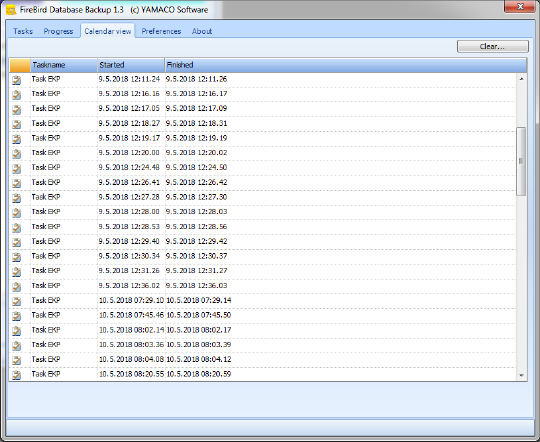 Application offers a wide range of setting and can be customized in many ways, for instance compressed and/or password-protected backups, simultaneous uploading up to two different FTP servers or sending detailed email with results of backup.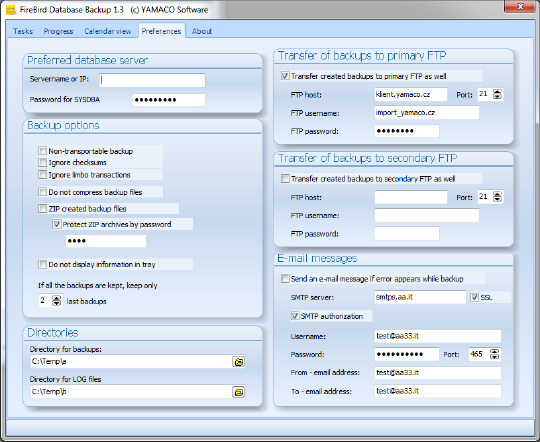 Direct download of trial version
Should you have any questions regading FireBird Database backup, please contact us