Effective and rich-featured tool for working with DBF files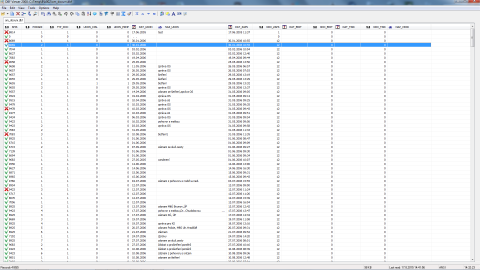 Why handle DBF files nowadays?
One can think that DBF files are obsolete, inefficient and there is no necessity to manage and handle them. But it's very big mistake.
Despite existing many brands of relational databases, for example Firebird, Microsoft SQL Server, Oracle or MySQL, file-based databases are still widely used. Probably not to often in new applications and projects but big amount of data is deposited in particular DBF files and should be converted from there - e.g. while migrating from older software system to new one. In this cases suitable software can save much time and effort. DBF Viewer 2000 is one of best solution for these purposes and we have been using it for approx. 10 years.
Editing and viewing DBF files
DBF Viewer 2000 offers powerful editor and viewer of DBF files. Basic type of record view is a grid containing all columns (table fields). Form view for detailed viewing and/or editing is available as well. BLOB fields are supported when DBF Viewer 2000 can work with very large DBF files, more than 2GB.
Common set of functions and features is available - user can search and replace values across the tables, sort data with using one or more columns (fields), print content of every record or whole table, format desired values (Upper, Lower, Capitalize).
Unique features for Restructure
Saving DBF file in different format is common and frequent task and reasons for doing that can be different. We encountered damaged index files and/or problems with reading BLOB fields (typically MEMO type) in some DBF files that we intended to migrate for many times.
In these situation we found very useful the option for Restructuring tables. With its help you can determine what fields will be considered in new format of DBF file and what shall be ignored.
Useful export options
Data in DBF table can be exported in many various formats - either as a common proprietary file types (Excel(XLS,XLSX), CSV, TXT, SQL, SDF, XML, HTML, PRG, SQL file formats) or as a SQL script with support of many database servers (MS SQL, MySQL, Oracle, PostgreSQL).
DBF Viewer 2000 runs on all up-to-date platforms
DBF Viewer 2000 is fully compatible with Windows XP/Vista/7/8/8.1/10 and Windows Server 2003/2008/2012 (32/64-bit). DBF files can be easily associated with DBFViewer 2000 and consequently opened very quickly and comfortably.
DBF Viewer 2000 supports all kinds of DBF file - it means Clipper, FoxPro, Visual Foxpro, dBase III/IV, dBase Level 7 and HiPer-Six.
DBF Viewer 2000 is available at our Discount page with exclusive promo
If you are interested in obtaining DBF Viewer 2000, you can do it at our Discount page and get 10% discount of common price.
News from our Sponsors
The Wireless Communication Library is the powerful SDK for software developers.
The Library includes a complete components set for develop applications which should use Bluetooth, IrDA, WiFi or Serial Port communication. Also WCL provides easy way to connect to a Wii Remote controller. Since version 6.11 WCL supports Microsoft Kinect game controller.
The Library can be used with Borland Delphi, Borland Developer Studio, Borland CBuilder, Microsoft Visual Studio .NET, Microsoft Visual C++ and Microsoft Visual Basic 6. The Wireless Communication Library is 100% compatable with Windows XP, Windows Vista, Windows 7 and Windows 8.
---
SvCom is an integrated package of classes and tools for development of service applications and use of NT Security framework.
Currently SvCom components work under all flavours of Windows.
Deploy NT Service applications under Windows 9x/ME and NT/ 2000/ XP/ 2003/ 2008/ Windows 7/ Windows 8
Develop and debug NT services using either Windows 95/98 or NT/ 2000/ XP/ 2003/ 2008/ Windows 7/ Windows 8 - using the same classes and the same function calls (!!!)
Advanced service debugging (Extremely useful, when you service is not just "Hello, World!")
Many more features...
More interesting links and pages
---
All binary option robots reviewed
---
Find the best promo codes & discounts
---
---
---
FX Tribune - Breaking Daily News
---
---
---
---
---