Monthly Star
Monthly Star displays chosen product exclusively every month free of charge.
If you would like your solution to be a Monthly Star, please
contact us
.
FlashBack Screen Recorder - Make engaging tutorials with a simple, powerful screen recorder.
Introduction
This is the screen recorder you're looking for. Powerful, fast and easy to use. Make engaging demos with advanced editing tools, share everywhere. You will need only three steps:
Record: FlashBack screen recorder captures any part of your screen and turns it into a video file.
Edit and Enhance: Draw on your screen, add notes and images and easily edit your movie to make it look professional.
Share: Export your movie in any major video format, or upload straight to YouTube or FlashBack Connect.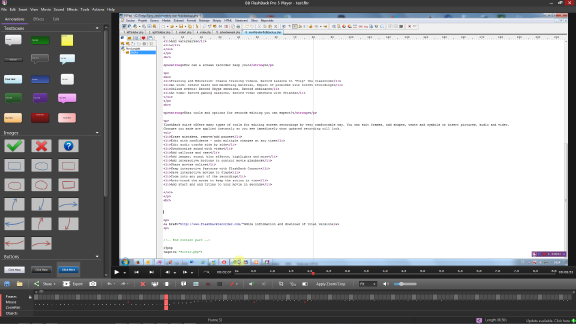 Main Features for Recording
Record a window or region
Record audio from mic/speakers
Record from webcam
Save to all major formats
Scheduled recordings
Record multiple monitors
High performance recording
Upload to Youtube
Add watermarks
How can a screen recorder help you?
Training and Education: Create training videos, Record lessons to 'Flip' the classroom
At work: Create sales and marketing material, Report IT problems with screen recordings
Online events: Record Skype sessions, Record webinars
At home: Record gaming sessions, Record video webchats with friends
What tools and options for records editing you can expect?
FlashBack suite offers many types of tools for editing screen recordings by very comfortable way. You can edit frames, add shapes, texts and symbols or insert pictures, audio and video. Changes you made are applied instantly so you see immediately what updated recording will look.
Erase mistakes, remove/add pauses
Edit with confidence - undo multiple changes at any time
Edit audio tracks side by side
Synchronize sound with video
Add callouts and text
Add images, sound, blur effects, highlights and more
Add interactive buttons to control movie playback
Share movies online
Keep interactive features with FlashBack Connect
Save interactive movies to Flash
Zoom into any part of the recording
Auto-track the mouse to keep the action in view
Add start and end titles to your movie in seconds
More information and download of trial version
News from our Sponsors
---
RVMedia is a set of Delphi VCL and Lazarus LCL components having the following functions:
Receiving video from local web cameras and IP cameras;Configuring IP cameras and controlling their rotation;
Reading sound from a microphone;Sending and receiving video and audio data via the Internet;
Organizing video chats and video conferences (either as directly connected applications or using a client-server model).
More interesting links and pages
---
All binary option robots reviewed
---
Find the best promo codes & discounts
---